Open the doors And feed all the people!
From the moment that we opened the doors, Muskegon has welcomed us with open arms. We've had highs and lows and through them all we've been surrounded by love and support, thank you Muskegon! A friend of mine recently asked if I was blogging this "opening" experience, I laughed and said, I haven't had a second to catch my breath but it reminded me of how quickly this experience will ebb away into another and how wonderful it would be to chronicle it, both for those who follow our blog and for ourselves. For over a year when we would run into anyone, we knew their question (whether they asked it out loud or not) was, "when will you be open?" and we asked ourselves that everyday as well. The journey that we thought would take a few months stretched out for well over a year and consumed us in construction, codes, permitting, inspections, etc. and then one day we were done. The ladders were gone, table saws removed, the construction trailer disappeared from the lot and we went from being in the construction business to the restaurant business. With our food and menu already finalized we knew finding and training our team would be the next critical step. We found a great core of people and spent time in the interview process talking about our unique space and the need for flexibility, teamwork, multitasking, customer focus, composure and agility but the most important quality for us was hospitality. Hospitality literally translates to loving a stranger and that's at the core of our business. We want everyone to feel welcome, not only that they can be here but that they belong here, that it's a warm and inviting space filled with life and energy. Our training consisted of Jeff working with the heart of the house (a term we use for the kitchen team) and I worked with the service team. At the end of each day we would push tables together and eat a family meal together. Here it is critical that we operate as a team, that when we reference one another we use names, we lend a hand, we help one another out and we have fun. We focused on not only knowing the ingredients but the importance of them, we went out to our deck and looked at eggplant and how it grows. Jeff went over to the market with the cooks and introduced them to farmers that we use. James, who helped us curate the wine menu did a wine tasting and shared the stories of these beautiful Italian vineyards that we are importing from. We told stories about our trips to Italy and how there, people would go to the market daily, how wine was a universal language and how meals would last for hours. We spent the time serving one another and ultimately our team's friends and family-we met their kids, significant others, parents, friends and grandparents, all leading to our soft opening weekend. That Sunday, after a family beach day, we sat down with Anna from the Muskegon Times, our kids a table away at Pigeon Hill and talked about how overwhelming it was-not the work or the business but the community support, there is so much energy in downtown Muskegon, so much love and life.
Here are some inside pics of our training….
That said, it isn't always rainbows and starshine. The restaurant business is chaotic and unpredictable, it's stressful and can be really challenging. The best laid plans can get turned upside down quickly. As we officially open our doors, we're still finding our groove and adjusting to our limited space. Most of our items are prepped daily so every morning we are up early shopping, making red sauce, mixing meatballs, pounding out the cotoletta, rolling pasta, breading the eggplant Parmesan amongst other things. It's not uncommon for me to send an emergency message to the Tortoise and the Hare Farm or The Only Cannoli late in the night hoping to grab basil or filling for the next day. If prep runs long we may be making tagliatelle between lunch and dinner and because our spaces are all shared it may be in the way of our bartender trying to stock for the night while working off of a small bar cart suited more for a dinner party than a full service restaurant but we make it work.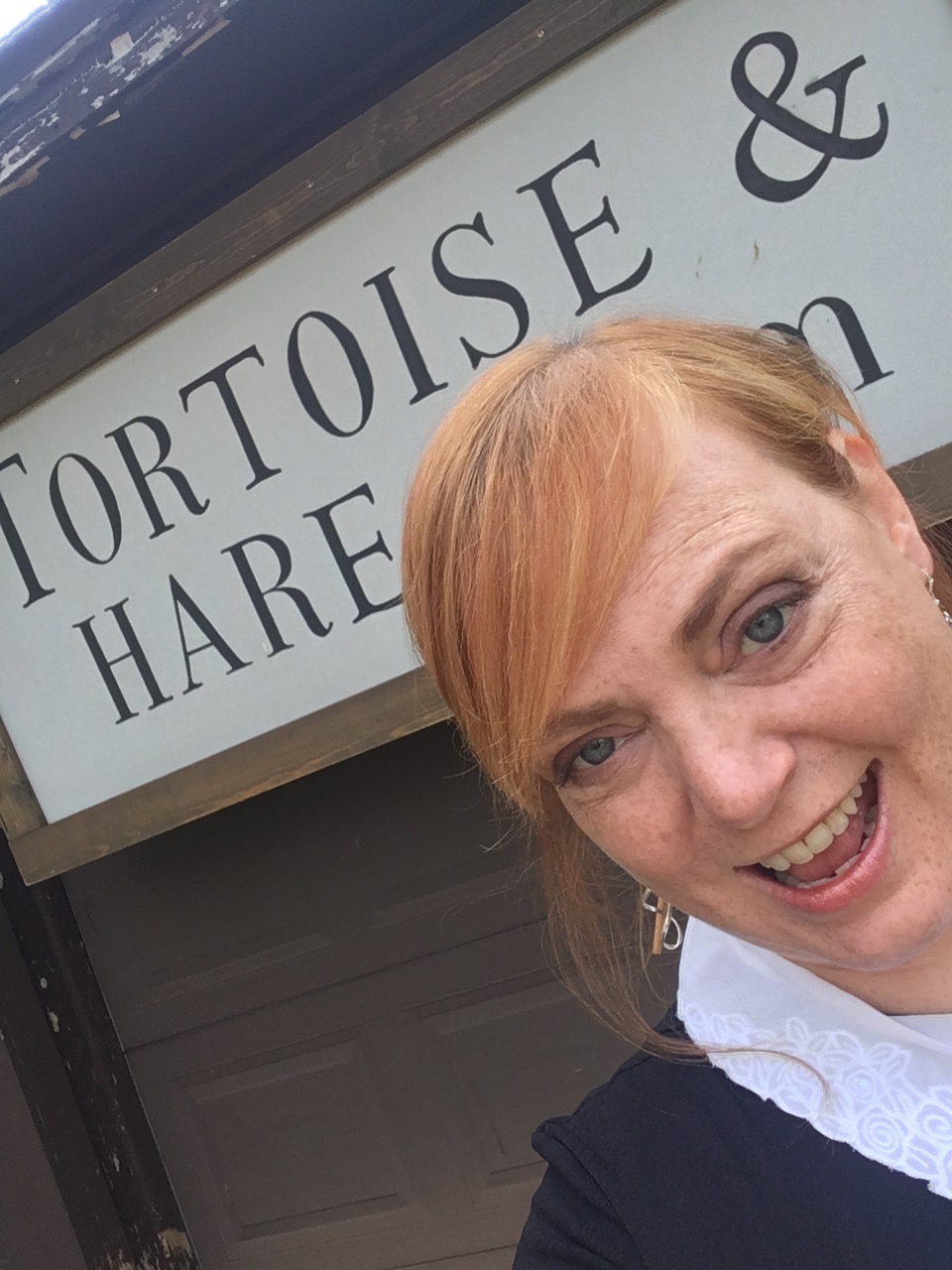 What a great stop on the way in for a long shift…
Saving us from the basil crisis of 2019!
As for the first few weeks of opening, we are both exhausted and energized. From Tuesday morning until late Saturday evening we are running a hundred miles a minute fueled by adrenaline and espresso and then we catch our breath and prepare for the next week. We have had little sleep and we are spinning to get ahead of the meatball demand (seriously-try the meatballs they are amazing!). We are excited to have a partner that can help us keep up with the basil need and not only answers our crazy messages but slows us down to tour the farm with the kids and reminds us why we love knowing our farmers-thank you Tortoise and Hare. We love that the partnership we began over a year ago with The Only Cannoli is now a reality and we are both in our own locations (back then it was all a vision for us both). I am grateful for my walks to the market and The Cheese Lady and the smiles I get from all of the cheese mongers when I walk in frazzled but manage to make time to try whatever is on their board. We love that our architect, project manager, general contractor, and numerous folks that worked on creating Nipote's not only come in to eat but beam with pride and feel invested in this journey of "becoming Nipote's." I was so thrilled by the graciousness of our mayor when he and his wife came in to dine with us and I love how invested he is in Muskegon and those who invest in it and how he beams with pride for this city. The first few weeks we have had visitors from other state's, our past restaurants, my first job, school and local businesses. I've laughed and cried as we've celebrated with friends, their parents, our families and the community. We've had panicked texts and calls; who can bring me pop, I need basil, can anyone run to the cheese lady, work a host stand, do dishes, pick up our kids and all of these were answered with smiles and a resounding yes!
Some shifts have been amazing and we've had a couple of rough ones to learn from; we are quickly making adjustments and adapting. Our team continues to be innovative and help problem solve. From the very beginning when they would ask, "what about this?" we've included them in the solutions and they really are creative but most importantly, they are a team. It's not uncommon to see one of the servers lend a hand at the door, run one another's food or grab glasses for the bartender and you'll see the bartenders plate a tiramisu or scoop gelato. The cooks bounce over and help one another, or drop over to do dishes and Jeff and I have spent a shift or two making drinks, hosting or hopping around where we are needed and in all of this chaos, we try to remind one another to have fun. There's nothing quite like the feeling you get when a service is running well and everyone is working together, smiling and laughing. There's a satisfaction and pride that comes to our cooks when you love the food that they've prepared. When you share stories of how a recipe ignited a memory, Jeff and I are reminded of how powerful and transformational food is. When you stop us to share how well the team works together we are thankful for the extra time we spent in training to remind everyone that this is a team, and we are grateful for our "Squadra." Our hope has always been that this would feel like our home, a little noisy (we're working on it being a little less noisy), a little crazy but somewhere that you feel the love and heart, where we hear Prosecco bottles pop and smell basil in the air! We want our food and our restaurant to have a soul and when we have someone comment on the "vibe" we know that's what is coming through. So please keep giving us your feedback, continue to enjoy the food and share your stories and experiences with us and the team. It truly makes our day!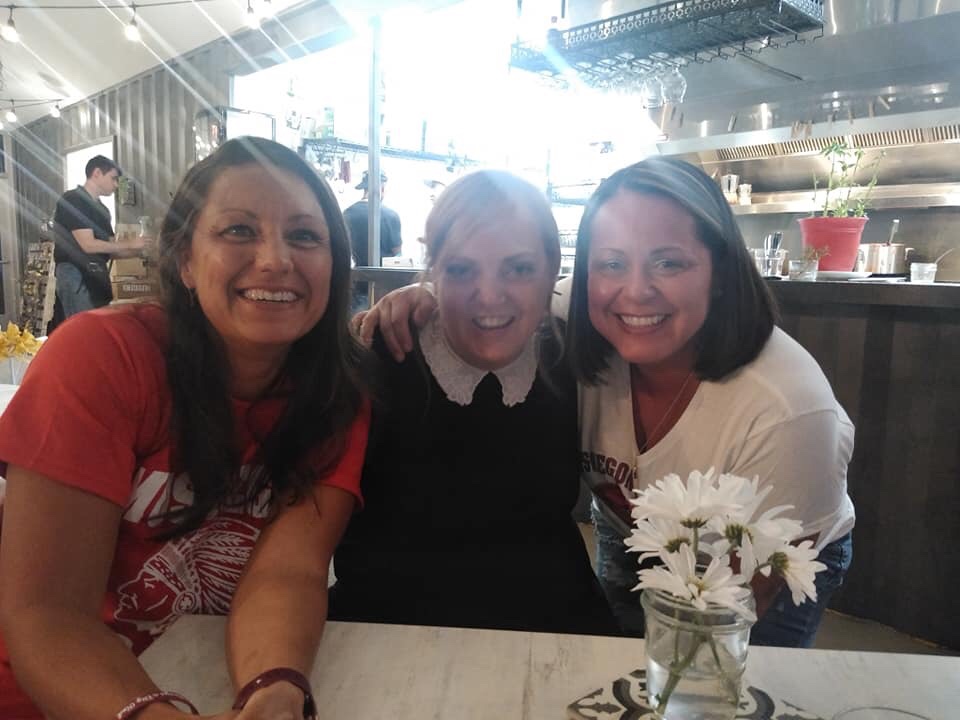 You've gotta smile when friends that you've had since kindergarten drop in to support you!
Breck, Katie and Team beamed with pride when they came to visit our finished space!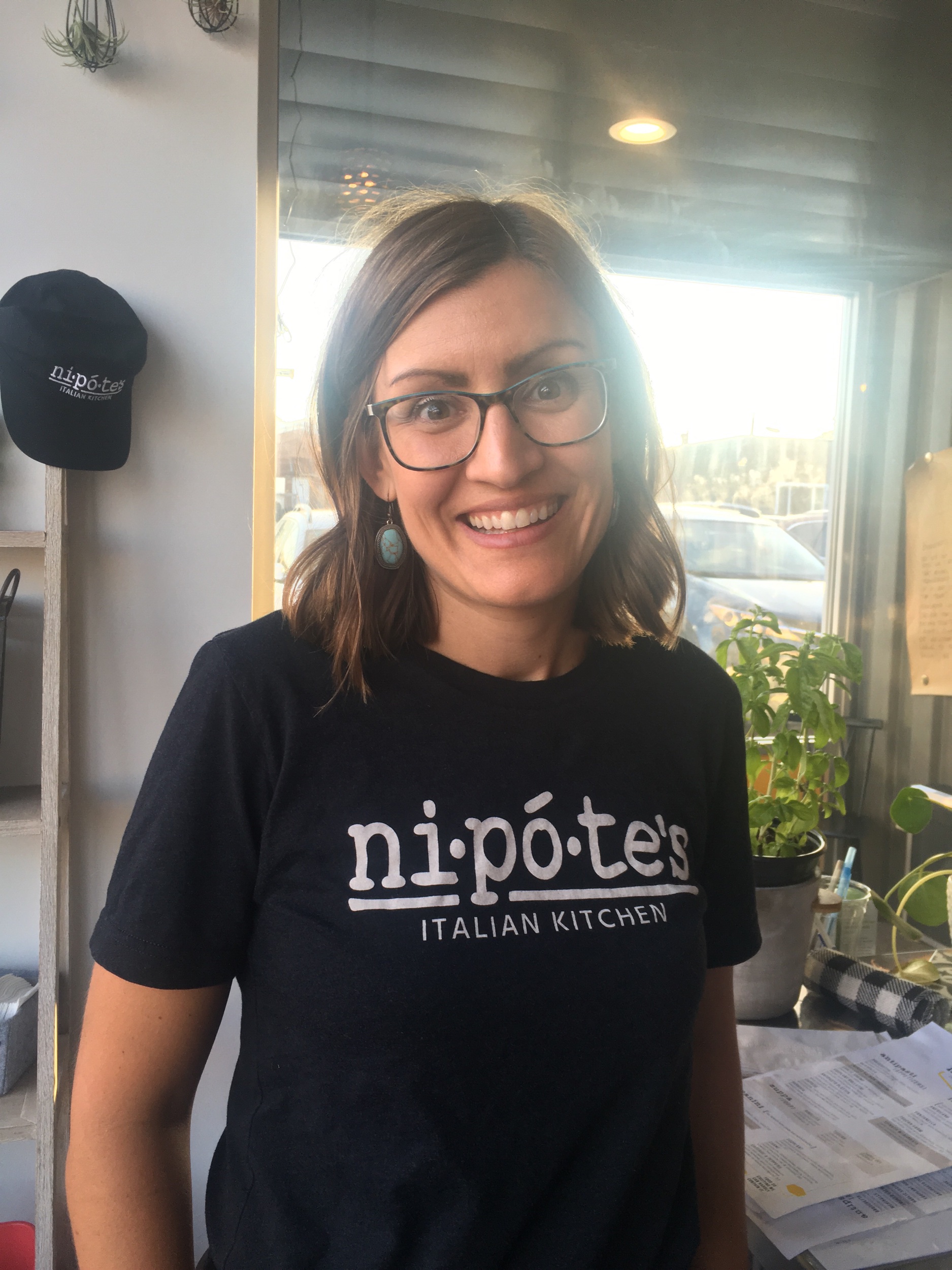 With a little help from our friends…
Mel B and Gayle both relived their hostess days to lend us a hand!